Join us again for the latest installment of HSM Act 2! This time, we take on the Hudge.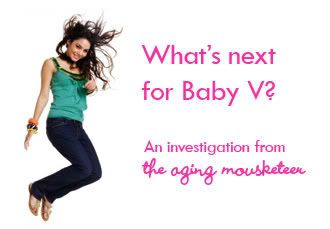 Vanessa Hudgens (Anne optional)
A warning for fans of the Hudge, we're a bit harsh on her, despite the fact that we do find her to be disgustingly pretty with a fresh and sweet look--when she's not channeling heroin chic on her album covers.
Sadly, for Baby V, her destiny is inextricably linked to her continued involvement with Zefron. While Zac might do better on his own, she is riding his coattails to the A-list. If she knows what's good for her, she'll hitch onto roles that don't highlight her lack of talent and range. Endorsement deals for B-list labels and copious style photoshoots for second-rate tabloids will also help pay the bills. Basically, we think she fancies herself and Zac to be a lower wattage version of Posh and Becks.
Should Zac dump her, all bets are off… HSM 5, anyone? Gabriella returns to direct the musical a la Brenda Walsh? While V is not totally devoid of talent, she seems eager to "stretch" her acting and singing chops, and we fear that she doesn't really have the full talent to back that up. See Bandslam trailer and try not cringe as she yells, "Let's shred!" We see her taking a "controversial role" and thus becoming the Elizabeth Berkley of the group.
We're not gloating about this; it's actually all a bit sad. We had such hopes for her long ago and far away. We just don't see much of her personality- there's sort of an empty space there with a dazzling smile and fabulous hair. While Paris Hilton has proved that you don't really need personality to generate a career, she may need to develop one to fight off her generation's Natalie Portman when she rises from the ashes and gives Zac a come hither smile. Truly, we do hope that she proves us wrong and gets all sassy the way we always knew that she could be.