The last curtain has dropped. The DVD is released. All 6 stars have declined to return for a fourth installment. It looks like HSM, as we know it, has come to an end. So as the Big Six take their bows, we wonder… is there a second act? Pasta and I have been exchanging e-mails on the subject and have put together our guide to prognosticating the future of the HSM stars. Over the next week or so, expect a post on each star with lovely graphics by Pasta and commentary from both of us. Let's look into the crystal ball, shall we?
What better way to start than the leader of the pack...
What's Next for Zac Efron?
Zac burst onto the screen with his gap toothed good looks and won us all over with Drew Seeley's intoxicating vocal arrangements. But what is next for the affable legend?
Name
Zachary David Alexander Efron
Known aliases
Zac, Zac Attack, The Tanned Beast Efron
Birthdate
Oct 18, 1987, San Luis Obispo, CA (Age 21)
Special talents
Actor, singer, smile that could launch a thousand tweenage screams
Key quote
"I just fell in love with theater, and after being so focused on school my whole life and musical theater, specifically, being my creative outlet, I can't believe that it has turned into something more than that. I'm grateful and thankful and amazed at how it's all turned out. I'm still on the craziest ride of my life."
The Pasta and M Evaluation: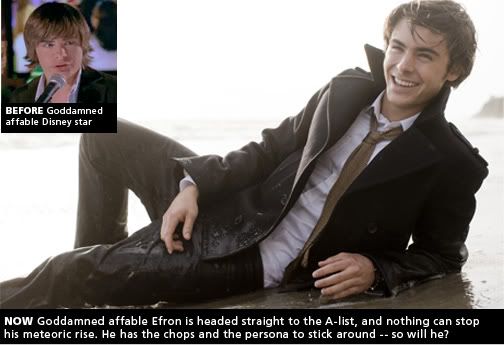 Zac Efron, future A-lister? At this point, it appears he has the best chance, if
17 Again
isn't a huge bomb. Quite a bit hinges on that movie, doesn't it? We've seen the trailer, and we don't hate it. It's no
Slumdog
or
Juno
or even
Ferris Buelle
r; but it looks to have some legit comedic moments, and it seems to showcase Zac's good-natured ability to poke fun at himself. From the start, Zac served as the mouthpiece of the gang in interviews, and he's well established as an affable, all-American, all star. With all those a-words, how could he not be on the A-list?
Well, we have some ideas how he could foul himself. (See how I did that with the sports metaphor?
What team? Wildcats!
)
We are concerned about his hair, and hope that he has time to start showering again somewhere in the near future. Yes, yes, we know that he is on trend with the oil-slicked do-- R Pattz is also sporting that look and even bragging about it a bit—but like mom jeans, greasy hair is something we will all look back on and cringe.
We are also concerned about his involvement with Baby V. We'll give her plenty of attention later, but we can't help but wonder if she's a bit of an albatross around his neck. Zan interviews well with plenty of bon mots, and Hollywood types speak of him as being gregarious and charming but also sort of devious… are we seeing a budding Clooney? It's clear the guy has some layers, at least. But at the moment, he's marketing himself as a package deal with Vanessa, and she does not come across as a sparkling wit. See this
D23 interview
- V goes on and on about being a princess and things being gorgeous, while Zac elaborates and makes jokes. They just don't seem to playing on the same field.
Is this a case of a great guy chained to a dumb girl because he's enjoying the fringe benefits (read: sex)? Personally, I'm hesitant to cast too many aspersions on a relationship because nobody really knows what goes on other than the two people involved, but I wonder if Zac's entry into the world of more mature roles might introduce him to girls with more obvious layers. Time will tell…