We've covered Zefron and The Hudge. Naturally, the next in line should be everyone's favorite third wheel: Ashley Tisdale!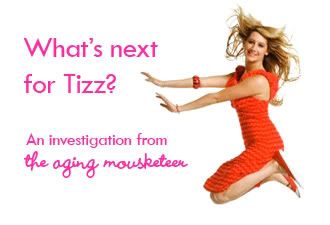 Name
Ashley Michelle Tisdale
Known aliases
The Tizz
Birthdate
July 2, 1985, Monmouth County, NJ (Age 23)
Special talents
Comedic acting. That is all.
Key quote
"People see me as cute, but I'm so much more than that. I'm 23 and I'm growing up, I can't be young forever."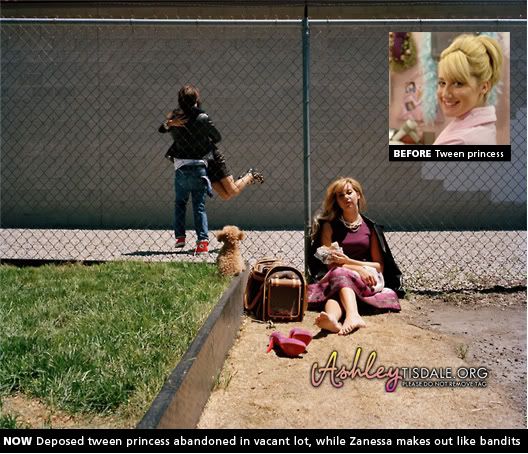 Ah, the Tizz. How our opinion of her has changed over the years! Remember when we thought of her a Disneybot set out to extend her 15 minutes as long as possible and take down Zanessa on the way out? Ah, memories.
Now, we sort of love her and think of her as the dark horse in the HSM race to adult success. If she was really true to herself, she'd become a journeyman comedic actress in TV and film, playing solid second fiddle and developing a decent, mature personal life away from showbiz. Perhaps this would add up to a strong portfolio of work and a great career late in life, too. She's well on her way with the decent personal life—she actually seems more concerned with her boyfriend's career than with her own at the moment. This seems to be preventing for her from taking too many bomb movie roles…
…But that said, she is starring in something called
They Came From Upstairs
about an alien invasion, so we're not too quick to hand her the Best Supporting Actress statuette. If she continues in this vein and can't resist competing with the instant gratification approach to success of Z & V, we sense more straight-to-DVD titles in her future and second rate endorsements that still coast on her Suite Life/HSM fame.
And do we smell a second and third album in the works? There's at least a confirmation of a second album called
Guilty Pleasures
, with a single called "Hot Mess," so there's hope yet for an afterlife as a gay icon. She claims to be going more "rock oriented" with this one, which could go either way. We are crossing our fingers that this means she'll sing in a more manageable register-- she's not bad when she's not shrilling. But we also believe she's about as "Rock and Roll" as Jesse and The Rippers. Still, if she gets help from the same folks who doctored H Duff's
Dignity
, it could certainly be worth a listen. But then again, if she's co-writing her own songs drawing from her life experience… well, this is only worthwhile if her songs are about how she secretly loves Zac and V stole him and Tizz wants to cut her. (What? Old habits die hard!) If she's writing about being suddenly famous and having a sweet, dim boyfriend, verdict says vapid.
And one final Tizz-bit. While the dark hair actually works, we still favor the blond. We see where she's going with the Mandy Moore School of "I found myself in a hair color," but we just miss our blondie.