Why did we stop with this? Let's resume this series pronto!
Name
Monique Adrienne Coleman
Known aliases
Mo, Mo Mo, Walking gun show
Birthdate
Nov 13, 1980, Orangeburg, SC
Special talents
Pretty much everything. Woman has written a book about her life and knows how to fly on a trapeze. A trapeze!
Key quote
"I was babysitting the night High School Musical premiered last year. I watched with the kids and we sang along to the lyrics. I was making $12 an hour."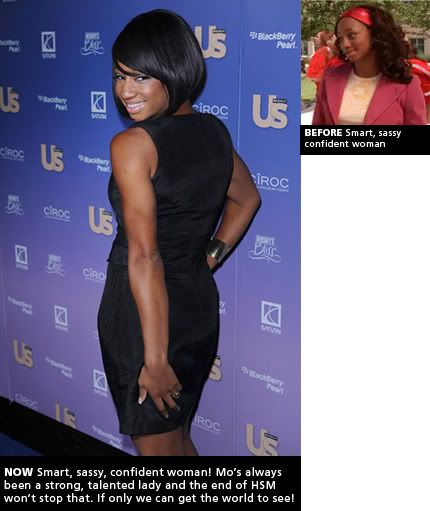 Monique presents a bit of a challenge for us. While she's the one with the smallest entourage, we think she's pretty talented and oozing with charm and class. The odds may be against her, but we are rooting for the underdog. Momo, we hardly know you! Don't go just yet!
She's a smart lady- completed high school and college and everything! We anticipate her taking strong but not necessarily star-making roles to build a credible acting career. She may fall off the radar for a few years and then re-surface on a sleeper hit TV show. Maybe something procedural? But then, we don't see why ABC Family can't give her a pilot. They gave one to a Mowry twin, why not MoCo?
But… then again… MoCo is a smart lady. And as the only HSM kid to actually struggle to make it as an actor before finally landing the plum role, she knows the value of a dollar. Her participation on Dancing With the Stars, while fabulous and a terrific example of her hard work, also demonstrates her willingness to do what she has to do. We might also see her taking a Tori Spelling approach to celebrity- a tell all book here, a reality show there, and a handful of guest appearances on highly rated teen shows. We would still love it- just for different reasons.
Bu then back to the other hand, Mo is the least visible and therefore the least well known. She could easily re-invent herself and "break free" in a brand new project in a whole new genre with HSM as a funny anecdote to relate at interviews.
Regardless, she will continue to build up her immense arm strength. And she's still the one we would most like to invite to share a bottle of wine and some fried food with a side of Hollywood gossip.
(Totally off topic now: did anyone see Star Trek? OMGSQUEE!)