Last but not least, Mr. Corbin Bleu.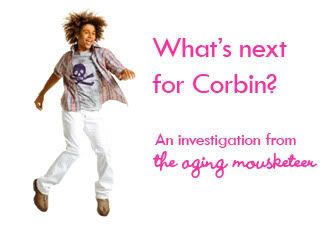 Name
Corbin Bleu Reivers
Known aliases
Corbs, Boy Wonder
Birthdate
Feb 21, 1989, Brooklyn, New York City, NY
Special talents
Dancing, smiling, boundless positivity
Key quote
"I love competition and really going for it and doing my best, but losing isn't really upsetting to me. I feel like if I do lose, the other person really deserved it.
Bonus quote
"Sara Lee soft & smooth bread appeals to kids."
The Boy Wonder is no longer a boy. Or at least, he wants to make sure we all think that because he's sporting some aggressive facial hair these days.
Yet again, we have another case of one hand or the other.
Corbin as we've always known him will just continue beaming his way good naturedly through life. He'll make the best of anything he's given, but he may be susceptible to bad career choices due to his cheerful nature. In his latest blog, he's all jazzed about Motor Cross and meeting the First Lady— a new talent to add to his resume skill set and another famous person to pose with in a picture for his gallery. Sounds about right.
As Corbin's album tells us, there is Another Side. We can't help but notice the absence of the ubiquitous smile in much of the HSM3 promotional events. His hair looks wilted, his eyes look deadened, his mouth is thin… this boy is having a delayed adolescence with angsty cries of "Who Am I?" and "Maybe I'm Not Who You Think I Am." Paging Troy Bolton and Dawson Leery in Varsity Blues! He seems melancholy -- unsettled by where his career might be heading without his input
Corbin seems to be maturing and looking back on his career so far and wondering if he's already done the biggest thing he's going to do. Sobering thought for a guy who just left his teen years behind about a month ago. We imagine he's staring at the void ahead and thinking, "Oh, god, is my career done before it started?" Is this the end until the People Magazine HSM 20th Anniversary Edition? (The Grease edition ROCKED, btw)
In the end, like the rest of his co-stars, Corbin is a mixed bag. It's a time of soul searching for him, and we hope he comes up with the right answers. We wouldn't count him out just yet. He is the Boy Wonder, so we think he probably still has a few tricks up his sleeve. Just so long as these tricks don't rely heavily on double dutch.
If all else fails, all these kids still have Broadway. Other Disney stars have found a second life there. Everybody seems to wind up playing Rizzo or Kinickie in Grease once they want to go legitimate.